Sew Mama Sew
have made June "Sewing Machine Month" and this is my meme (better late than never hey!)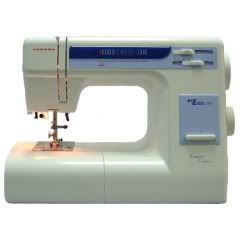 What brand and model do you have?
Janome
My Excel 18W
How long have you had it?
5 years
How much does that machine cost (approximately)?
$299
What types of things do you sew (i.e. quilting, clothing, handbags, home
dec
projects, etc.)?
Mostly
children's
clothing, some bags, toys and sometimes I use my sewing machine for
scrapbooking
How much do you sew? How much wear and tear does the machine get?
I lost my 'sew-
jo
' for a while, but now I'll use my machine at least every few days.
Do you like/love/hate your machine? Are you ambivalent? Passionate? Does she have a name?
I love my machine. It is basic but perfect for the level my sewing is at. It
doesn'
t have a name.
What features does your machine have that work well for you? I love how the lid flips up with important information printed on it. Like what foot to use with what stitch type and
recommended
stitch length/width as well as tens
ion.
Is there anything that drives you nuts about your machine?
Button hole. I can't seem to get the hang of doing button holes nice and neat.
Do you have a great story to share about your machine (i.e., Found it under the Christmas tree? Dropped it on the kitchen floor? Sewed your fingernail to your zipper?, Got it from your Great Grandma?, etc.!)? We want to hear it!
Not with this machine, but I would like to share the story of my first machine.
I got my first machine, a
Pinnock
(brand), when I was 15 years old. My teens were are challenging time and were also years spent finding myself and (sometimes) being angry with life experiences I could not change. One of those experiences was watching my cousin deal with grief and depression associated with the murder of her two children. Her children, Rachel and Shane, were my play buddies, and were killed by their father in tragic circumstances. Needing a way to deal with all this I wrote a letter to Rachel and Shane, mostly just letting know how much I missed them and what sort of things we would be doing together if they were still alive.
Then I sent the letter to a magazine which paid a fee for true stories. I was paid $250 for my letter which I used to buy a sewing machine. I don't use the
Pinnock
anymore, but I often think of Rachel and Shane when I sew and this makes me happy.
Would you recommend the machine to others? Why?
Definitely. I would recommend this machine to all beginner sewers as it is a great first machine. It also comes with several feet, which as you grow in knowledge and confidence, can really improve your sewing.
What factors do you think are important to consider when looking for a new machine?
Does it come with a hard case? This is important for protecting your machine from bumps, dust and small children. How much and how readily available are the machine feet? Have a look at the user manual, does it have pictures/diagrams and easy to read language? Does the shop you buy it from offer classes in how to use your machine?
Do you have a dream machine?
My dream machine is a super
dooper
Janome
Memorycraft
11000. It also happens to be $8499......My realistic dream machine is probably a
Janome
Memorycraft
9700.